Fixed Income Risk & Compliance Software
Revaluate how you manage risk and ensure compliance with IMTC's investment management platform through proactive risk mitigation and embedded compliance checks.
Monitor passive and active compliance breaches
Gain visibility into pre- and post-trade compliance across all accounts to mitigate unknown risks with ease.
Set portfolio- and security-level compliance restrictions across hundreds of analytics and data points to ensure adherence with investment policies and guidelines
Identify portfolios with compliance breaches via dynamic dashboards, empowering you to take appropriate action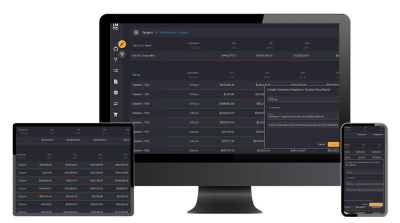 Minimize investment
target drift
Customize portfolio strategies at scale with streamlined and integrated investment targets.
View aggregated needs across the platform to move portfolios closer to investment targets and mitigate divergences from the composite.
Codify mandates and guidelines into
the system
Simplify investment workflows with compliance embedded into every step of the investment process, providing bandwidth and enabling scale. 
Incorporate compliance guidelines in front-office workflows, including optimization and allocation, to ensure pre- and post-trade adherence to investment rules.
Leverage intuitive tools to build rules or automate rule construction by integrating with external sources to enable a more scalable compliance solution.
Quantify and address firm-wide risks
Monitor risk across the firm effectively with total holdings reports, aggregating exposures across issuers and portfolios. 
Access high-level, aggregated metrics showing compliance breaches and risks across accounts.
Maintain investment audit trail
Ensure adherence with firm-wide rules with the ability to review audit logs for investment decisions and trading across the firm in one place.
View all investment activity across modules on an interconnected system, resulting in more efficient activity tracking.
Permission access and approval rights associated with creating and updating compliance rules to ensure adjustments occur through authorized channels.
Want to learn how IMTC helps your firm to outperform?
When you explore if IMTC is the right solution for your firm, our team takes a consultative approach to address your pain points. To get started, we will:
Assess your needs to determine if our value meets them.
Demonstrate solutions that address your pain points and support your workflows.
Dive deeper into your needs to provide a report on opportunities for optimization.
Discuss partnership opportunities.