Fixed Income Portfolio
Management Software
Reimagine how you construct and optimize portfolios to generate ideas, rebalance allocations, and create customized solutions at scale.
Aggregate portfolio needs to start your day
Identify portfolios that need attention and aggregate those needs to prioritize a proactive strategy at the start of each day.
Narrow down portfolios that need work by easily filtering for real-time cash balances, compliance breaches, rating changes or investment target drift.
Determine aggregated underweights versus targets for each portfolio and strategy to easily convey needs to sell-side coverage.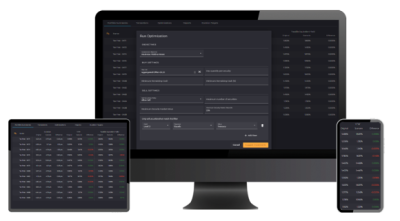 Easily perform what-if analysis
Mockup orders that clearly and compellingly demonstrate the pre-trade impact on analytics, restrictions, and investment targets before sending them to the trade desk.
Run optimizations across accounts simultaneously
Proactively optimize risk and return profiles across portfolios with IMTC's decision-support tools designed for faster and more accurate decision making. 
Generate CUSIP-level buy and sell recommendations with compliance rules and investment targets embedded into the optimization process, reducing tracking error and improving active risk mitigation.
Leverage bespoke allocation methodologies
Streamline allocations for new issues and secondary market purchases across hundreds of accounts at one time.
Bring precision and fairness to your investment decisions with rule-based allocation protocols, including pro-rata and customized waterfall approaches.
Customize models, strategies, ladders, and SMAs
Enhance product offerings and personalized investment strategies with a portfolio management system that enables faster, more accurate decision making at scale. 
Save time by streamlining investment workflows to monitor performance, identify risks, and improve decision making across multiple accounts.
Monitor and benchmark performance across portfolios through aggregated dashboards and customizable reports.
Access multiple insights at once to make better investment decisions through integrated portfolio holdings, cash balances, and third-party or proprietary data.
Want to learn how IMTC helps your firm to outperform?
When you explore if IMTC is the right solution for your firm, our team takes a consultative approach to address your pain points. To get started, we will:
Assess your needs to determine if our value meets them.
Demonstrate solutions that address your pain points and support your workflows.
Dive deeper into your needs to provide a report on opportunities for optimization.
Discuss partnership opportunities.