The new way to manage fixed income
Investment management technology that enables you to invest with a speed and accuracy that's never been possible before.
IMTC's staff helped us achieve a third-party managed, rules-based allocation process—a process that has reduced the time we spend allocating bonds by over 50%. The IMTC platform has made this time-consuming task much more efficient, allowing us more time to analyze bonds and portfolios.
– Goelzer Investment Management
Invest across individual bond accounts simultaneously
Fixed income investors have been neglected technologically for years. Finally, there's a solution designed for individual bond portfolios. With IMTC, you can stop wasting time on manual investment processes, including:
Allocating bonds across accounts
Validating pre-trade compliance
Customizing portfolios at scale
Aggregating orders to send to the desk
Consolidating data and systems into one view
Make fixed income investment decisions 450x faster​
Whether you're managing SMAs, model portfolios, bond ladders, or funds, you need to make decisions across accounts simultaneously. IMTC brings your ideas from portfolio construction up to execution in one seamless workflow, connecting all your data into one view. 
Explore how our investment management system adds value across the team:
Explore trends in fixed income
Wealth management firm Treasury Partners utilizes IMTC's cloud-based fixed income portfolio management trading and investment policy compliance system
The Orion Ascent conference was a valuable meeting of the minds to discuss new innovations and trends in portfolio management. Here, we discuss our top takeaways from the event.
Explore IMTC's latest product developments, including sleeve-level compliance rules and asset segmentation, cash flow visualizations, and more detailed asset allocation management.
Grow your business with the right investment technology
Simplify and automate your tedious fixed income investment processes, so you can customize solutions and deliver better outcomes for your clients. Firms who use IMTC's cloud-based investment management system:
Reduce bond allocation time by 50%
Minimize pre-trade compliance burden by 90%
Increase assets under management without adding headcount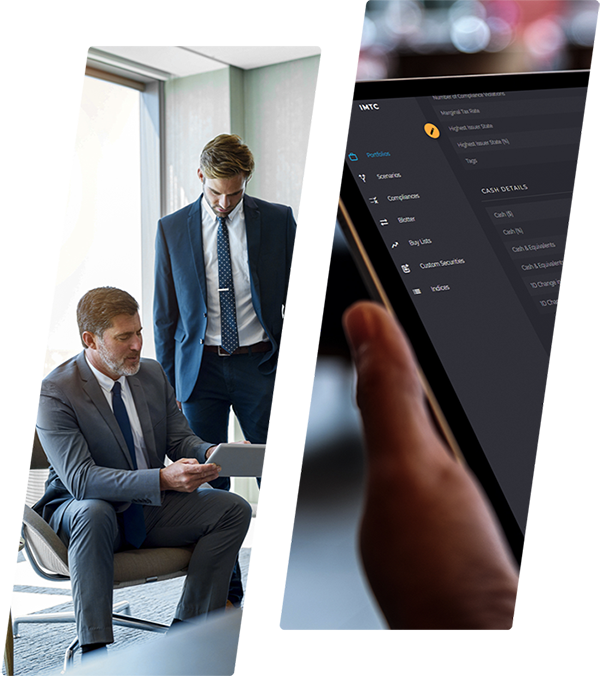 Trust IMTC for the heavy lift of calculations needed to effectively make fixed income investment decisions. Our cutting-edge development techniques mean you get lightning fast system performance.