During the last week of June, all eyes were on the US and China in anticipation of the pair's June 29th meeting at the G-20 Leaders Summit in Japan. US President Donald Trump and Chinese President Xi Jinping reached a "trade truce" after months of escalating tensions, with the duo agreeing to restart negotiations in lieu imposing additional tariffs.
After previously blacklisting the Chinese tech giant, Trump said US companies would again be able to supply Huawei productsand that China was on the hook to buy a "tremendous" amount of farm exports. US wholesale pork prices have fallen to decade lowsamid an expansion of the American hog herd and the ongoing US-China trade war. According to a Bloomberg report, investors are "dumping their bullish wagers" and betting that low corn prices will keep average pig weights higher and maintain the herd's expansion until demand from China returns. The Asian country's pork supply could dwindle by 30% within the next two years amid rampant African swine fever.
The long-awaited news of a truce was a good sign for the market, with investors pricing in a positive outcome as a "foregone conclusion" ahead of the rendezvous and strategists agreeing that at the very least the US would hold off on imposing more tariffs.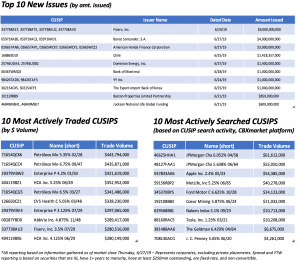 An end to the standoff could signal that the Fed will be prepared to take more drastic action than a modest cut as early as July, according to international wires. After last month's domestic labor market data indicated a slowdown in payroll growth, a Manulife Asset Management portfolio manager saidthat "the biggest risk for Treasuries would be a strong report that also hints at climbing wage pressures."
However, Treasuries are unlikely to increase significantly even if payrolls rebound, according to a Bloomberg interview with a Barclays analyst, who indicated that weak inflation and negative yields in Europe mean the rally is "unlikely to be reversed."
At the end of June, 10-year Treasuries dropped 40bp QoQ, proving a slowdown in domestic manufacturing growth. The S&P 500 rose by 3.5% QoQ, with a surge from materials producers, according to Bloomberg.
Internationally, the US and China weren't the only ones busy inking a deal at the G-20 summit. Mercosur—the trade bloc of Argentina, Brazil, Uruguay and Paraguay—penned an agreement with the EU, its first major trading partner. Elsewhere in Latin America, Mexican President Andres Manuel Lopez Obrado announced that Petroleos Mexicanos, the state-owned oil company, signed a $8bn syndicated loan with 20+ banksto fund a liability management exercise. The move comes after recent ratings downgrades, which contributed to Mexican stocks falling .6% and MXN depreciation.