US Treasury rates fall to pre-reopening levels as the continued spread of COVID-19 plagues the large parts of the economy that began to ease lockdown measures first. Fixed income managers remain wary of the growth outlook; they are getting comfortable with rates remaining lower for longer as the 30-year bond yield fell through 1.30% and is now at its narrowest spread to the 10-yr in 2 months. The US 5yr bond also hit a record low of 0.258% as the front end of the yield curve remains well anchored. Despite lower Treasury yields, credit spreads followed equities to a better week overall, a product of the continued extraordinary support of the Fed.
The yield curve continues to flatten
The front end of the yield curve continues to flatten, but we saw the most flattening this month on the long end, as the US 30 year is -9bps lower on the month and the 10 year is –4bps lower on the month. US Treasuries remain extremely liquid, as dealers see strong bids on inventories.

Healthcare and consumer discretionary drove credit spreads tighter
Credit spreads ended tighter on the week driven by healthcare and consumer discretionary sectors. Financials were a drag on the index, as it continued its bearish trend and widened roughly +30 bps. Despite financial, single A credit tightened -8 bps, outperforming both AA and BBB.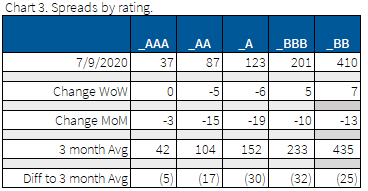 New issuance led by Takeda Pharmaceutical
It was a relatively quiet week in new issuance given the lull from the post-holiday week. Issuance continues to target the longer maturities, as duration of investment-grade corporate credit universe is at 8.5 years, up from ~7.0 years last year. The big issuer was Takeda Pharmaceutical who tapped the long end of the curve, issuing 2.5BN in 10 year, 1.5BN in 20 year, 2BN in 30 year, and 1BN in 40 year.

High yield trading mirrors equity trading
High yield traded tighter on the week, which mirrors the overall environment with equities trading higher and yields moving lower. The high yield market continues to trade hand-in-hand with equities, with a ~0.8 correlation. Vale (1.5BN 10 year) and Enbridge (1BN) who are both rated high yield by Moody's tapped the new issue market and ended tighter from their new issue.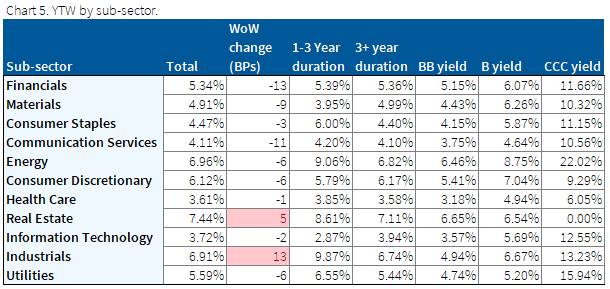 Muni technicals remain supportive
Municipals continue to keep up with Treasuries as investors compete for bonds, closing -4 bps lower in yield week over week.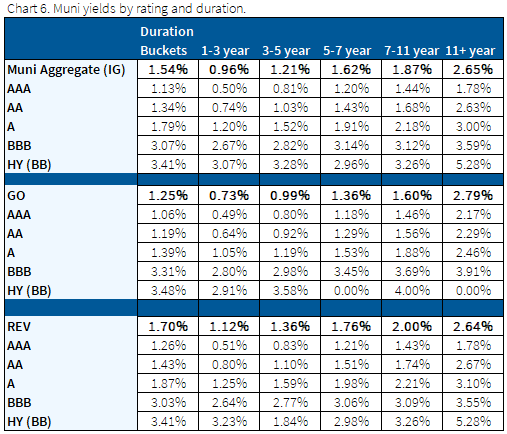 Two large deals in muni new issues
Largest two deals of the week were the Commonwealth of Massachusetts (AA/Aa1) and Port Authority of NY /NJ (A+/Aa3) issuing over $1 billion each. The MA deal is spread across the curve but heavily weighted to the long end and PA NY/NJ issued a 3 year at 1.086%.

Want more fixed income insight from IMTC? Sign up to receive The Fixed Income Brief weekly.
This paper is intended for information and discussion purposes only. The information contained in this publication is derived from data obtained from sources believed by IMTC to be reliable and is given in good faith, but no guarantees are made by IMTC with regard to the accuracy, completeness, or suitability of the information presented. Nothing within this paper should be relied upon as investment advice, and nothing within shall confer rights or remedies upon, you or any of your employees, creditors, holders of securities or other equity holders or any other person. Any opinions expressed reflect the current judgment of the authors of this paper and do not necessarily represent the opinion of IMTC. IMTC expressly disclaims all representations and warranties, express, implied, statutory or otherwise, whatsoever, including, but not limited to: (i) warranties of merchantability, fitness for a particular purpose, suitability, usage, title, or noninfringement; (ii) that the contents of this white paper are free from error; and (iii) that such contents will not infringe third-party rights. The information contained within this paper is the intellectual property of IMTC and any further dissemination of this paper should attribute rights to IMTC and include this disclaimer.