Fixed Income Trivia Time:
In the next 12 months, how many Fed hikes are priced in?
—————–
Next Wednesday's FOMC meeting will commence the steady climb of the Fed Funds rate with more than 1.50% of hikes already priced in over the next 6 meetings. The yield curve's year-to-date moves have baked in this scenario, with front-end bonds (5-years and shorter) rising faster than the longer end (10 years and longer), flattening the yield curve and increasing the chance of an eventual inversion. An inverted curve is usually signaled by 2yr notes trading at yields higher than their 10yr counterparts, which reflects an increased risk that the U.S. economy will dip into a recession in the short- to medium-term. Unfortunately, Chairman Powell and the FOMC have no choice but to stay the expected course to retain their credibility in the face of sticky and elevated prices since the pandemic's onset.
The latest February CPI release cemented the near-term outlook for prices given a higher-than-expected core CPI YoY print (+6.4% vs. +5.9% exp.), and consumer inflation expectations are +5.4% based on the preliminary Michigan survey release Friday. This is the highest reading since December of 1981 and up over +2.3% from March 2021's reading.

Rates trend higher WoW despite risk tone around war in Ukraine
Volatility manifested this week with all maturities rising across the yield curve; the U.S. 5yr had the biggest increase (+33bps WoW) as it nears the same yield as the 10yr. The 5yr yield rose +6bps more than the 10yr, and now there is only a 4bps differential between the two maturities. The 2yr and 10yr both rose +27bps, with the 2yr continuing its poor performance in the face of imminent Fed rate hikes. The 30yr yield changed the least, rising only +21 bps WoW, causing the curve to flatten further.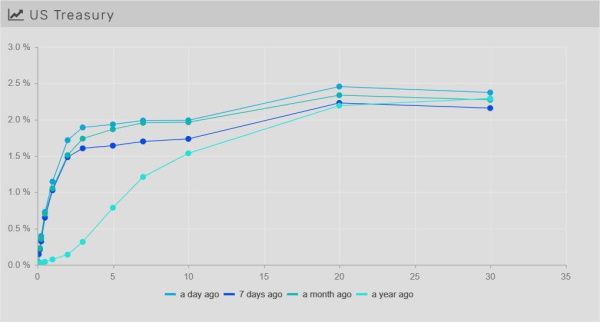 Spreads move wider on inflation and macro-concerns
The economic crisis in Russia will have a large impact on the economy, and corporate credit spreads are ~5bps wider on the week. European banks are less exposed than originally predicted, and there was idiosyncratic tightening mid-week on specific names that reported their exposures. Inflation will continue to impact the US consumer and this month's long move to wider spreads reflects concern over how it will affect corporate profits.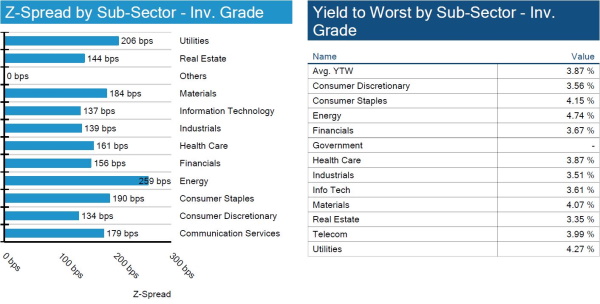 High yield spreads move wider
HY spreads widen ~20bps this week as larger economic concerns dominate the news cycle. There have been larger spread swings intra-week on changing energy prices, and oil prices have started to take a bite out of GDP. Idiosyncratic drivers include major airlines, American, United, Delta, and Talen Energy.








Russia continues to see ratings cuts
Russia is the major headline for downgrades as it plunges into junk. For IG corps, NVIDIA and Abbott saw specific tranches of debt downgraded one notch.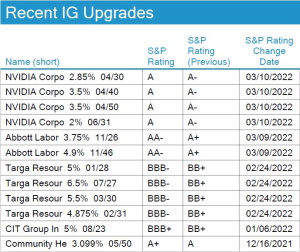 Munis remain potential havens against other FI sectors in rising rate environment
Despite recent negative returns, municipal bonds again outperformed U.S. Treasuries as fundamentals and ongoing supply/demand technicals remain tight in the face of limited supply. We reiterate that, historically, muni bonds perform well through periods of rising rates. Given the current absolute level of tax-exempt yields and diversification benefits of investing in U.S. municipalities, expectations are for spreads to move tighter as overall rates increase.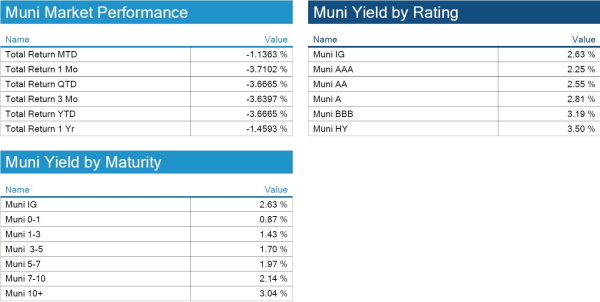 *Disclosure on all charts: Figures shown above are the weighted aggregate of bonds that currently have an IDC price and based on transactions over the past 2 weeks. This may create anomalies in the data but aligns with our effort to reflect actual market conditions. Data pulled as of end of day Thursday, March 10, 2022.


View full IG, HY, and muni market reports pulled from IMTC:
Fixed Income Trivia Time:
6.5
Want to get this in your email every Sunday? Sign up to receive The Fixed Income Brief weekly.
This paper is intended for information and discussion purposes only. The information contained in this publication is derived from data obtained from sources believed by IMTC to be reliable and is given in good faith, but no guarantees are made by IMTC with regard to the accuracy, completeness, or suitability of the information presented. Nothing within this paper should be relied upon as investment advice, and nothing within shall confer rights or remedies upon, you or any of your employees, creditors, holders of securities or other equity holders or any other person. Any opinions expressed reflect the current judgment of the authors of this paper and do not necessarily represent the opinion of IMTC. IMTC expressly disclaims all representations and warranties, express, implied, statutory or otherwise, whatsoever, including, but not limited to: (i) warranties of merchantability, fitness for a particular purpose, suitability, usage, title, or noninfringement; (ii) that the contents of this white paper are free from error; and (iii) that such contents will not infringe third-party rights. The information contained within this paper is the intellectual property of IMTC and any further dissemination of this paper should attribute rights to
IMTC
and include this disclaimer.
.