Capture data from any source with new integrations and open API
Data is king when it comes to making the best investment decisions for your clients. As an investment manager, you must be able to access a wide variety of financial, aggregate, bank and tax data quickly and in real-time. With IMTC's latest update, users not only have greater access to information from leading custodial aggregators such as SS&C APX, Orion, and Vestmark but can now transmit data to the IMTC system through our own open API.
Now, using IMTC's new integration capabilities, you can:
Access leading aggregate data providers including APX, Orion, and Vestmark
Populate the platform with any custom data file through the open API
Drill down into what-if scenarios with enhanced portfolio visualization
Understanding the impact of trades in a scenario, quickly, is critically important in making investment decisions. Although IMTC has provided the valuable capability of being able to scan hundreds of portfolios to see the pre- and post-trade impact of proposed trades, our platform didn't have the ability to dive into an individual portfolio in detail until now. This capability allows you to automatically validate scenarios without time-consuming data manipulation in a spreadsheet. With this latest update, IMTC's system has added the ability to drill down into the details of individual trade proposals, allowing wealth managers to make better investment decisions, faster.
Now, using IMTC's enhanced visualization capabilities, you can:
View a dashboard at the portfolio level of pre- and post-trade impacts
Drill down into the scenario at the portfolio holdings level
Gain more compliance awareness with detailed delta metrics
Increase control of your investment decisions
IMTC has expanded options within both its Allocation and Optimizer modules to bring hypothetical situations to reality with ease. While automation does provide significant time savings for portfolio managers, they need to have a wide range of inputs to ensure the system can provide ideal investments for each portfolio. Now, IMTC allows you to customize multiple waterfall logic allocate funds across portfolios and has added many new factors to input for Optimizer results, resulting in accelerated and more precise investment decisions.
Now, with additional Optimizer parameters available, you can:
Customized Waterfall Allocation: Customize logic in allocation decisions before they are needed
Optimizer Parameters: Expanded input criteria to control investment objective priorities and buy/sell settings
Edit allocation and optimization results in line to easily modify investment decisions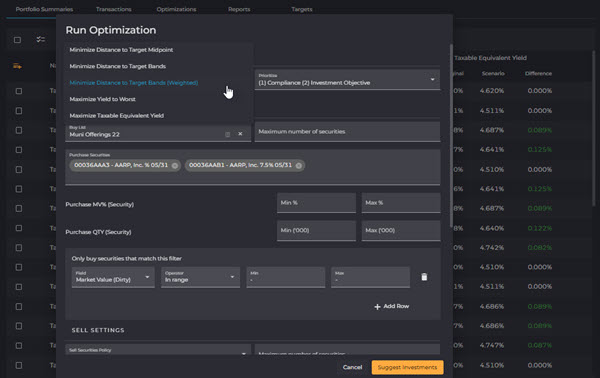 For information on IMTC's investment management platform, please contact team@imtc.com or reach out to our team.


This paper is intended for information and discussion purposes only. The information contained in this publication is derived from data obtained from sources believed by IMTC to be reliable and is given in good faith, but no guarantees are made by IMTC with regard to the accuracy, completeness, or suitability of the information presented. Nothing within this paper should be relied upon as investment advice, and nothing within shall confer rights or remedies upon, you or any of your employees, creditors, holders of securities or other equity holders or any other person. Any opinions expressed reflect the current judgment of the authors of this paper and do not necessarily represent the opinion of IMTC. IMTC expressly disclaims all representations and warranties, express, implied, statutory or otherwise, whatsoever, including, but not limited to: (i) warranties of merchantability, fitness for a particular purpose, suitability, usage, title, or noninfringement; (ii) that the contents of this white paper are free from error; and (iii) that such contents will not infringe third-party rights. The information contained within this paper is the intellectual property of IMTC and any further dissemination of this paper should attribute rights to
IMTC
and include this disclaimer. Photo by Scott Webb from Pexels.