Allocate and optimize more effectively with enhanced waterfall methodology
With our waterfall allocation methodology, you can more effectively allocate bonds across accounts. Users can more equitably distribute bonds across portfolios, while adhering to embedded compliance restrictions and investment targets. For example: when optimizing with waterfall ranking by accounts, the platform will rank and sort accounts first, then rank and sort portfolios within an individual account. Optimizations will occur in that order, starting with the most deserving portfolio within the most deserving account.
Using the expanded waterfall allocation methodology, you can:
Use waterfall methodology to allocate and optimize by both Portfolio and Account, which sets weights across your selected metrics to determine how bonds are best allocated – "who deserves these bonds the most?"
Create ranked models for sleeved portfolios by building out a market % rule based on levels
Want to learn more about how our allocation process helps you? Read our blog on allocating across accounts efficiently.


Optimizer enhancements increase ability to customize
One of our biggest value differentiators, the Optimizer, can now generate more custom recommendations. Now, you can trade in custom increments rather than being limited to increments defined by Terms and Conditions. For example, instead of pre-defined 1k x 1k increments, you can choose to add trades to the buy list in your own minimum piece size of 100k and set increments of 25k beyond. The system will still prevent you from violating the CUSIP terms if you try to go below, but the rest is up to you.
With these new features, you can:
Trade in custom increments specific to your needs
Optimize using available spendable cash, taking liquidity requirements into account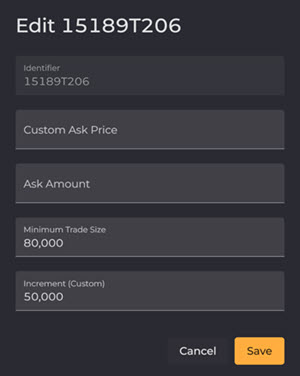 Upgrade Scenarios with switch trades
IMTC's unique Scenarios module takes the guesswork out of anticipating the impact of switch trades. Within seconds, you can accurately assess the potential impact on your portfolio prior to making any trades.
Our enhanced switch trade functionality enables portfolio managers to construct scenarios with a wider variety of set parameters.
Now, with expanded Scenarios functionality, you can:
Switch trades by quantity, contribution-to-duration (CTD), contribution-to-spread duration (CTSD), market value percentage, or dollars.
Identify opportunities to enhance returns or reduce risk more accurately
Tailor switch trades to meet investment objectives with precision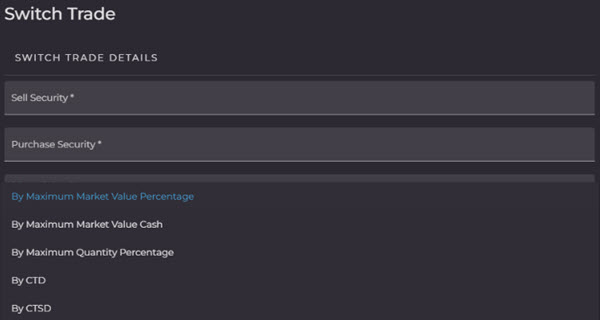 Increased granularity and control when optimizing portfolios
Accurate data is the foundation of portfolio optimization. Today, many portfolio managers tab between multiple software solutions and spreadsheets in order to access the information they need to make investment decisions. IMTC aggregates this data in one place, saving you time and removing the potential for human error. We've expanded data fields across the platform to provide a more granular level of optimized recommendations.
With these improvements across the IMTC platform, you can:
Access additional context for accounts with new Currency, Tax State, and Client Advisor fields
Drill down and offer more detailed reporting, with added Book Income, Effective Income, and Coupon Income fields to total holdings
View calculated CTSD (Contribution to Spread Duration) for risk assets
Edit the Duration, YTM, and YTW manually for all types of custom securities


Access SOD and other asset data from custom sources
Our objective is to streamline and automate your workflows, using whatever file or data delivery technology your firm supports. Our system architecture is designed to pull data from many sources and bring it directly into your workflow in the IMTC platform. This includes seamlessly integrating "other asset" data from third-party sources, ensuring that you have a complete view and can reference all of your assets in one place.
Using new platform enhancements, you can:
Utilize our agnostic API to upload assets to the platform from custom data files
View an improved SOD awareness data set via our file-based clients (and now Clearwater integration)


For information on IMTC's investment management platform, please contact info@imtc.com or reach out to our team.


This paper is intended for information and discussion purposes only. The information contained in this publication is derived from data obtained from sources believed by IMTC to be reliable and is given in good faith, but no guarantees are made by IMTC with regard to the accuracy, completeness, or suitability of the information presented. Nothing within this paper should be relied upon as investment advice, and nothing within shall confer rights or remedies upon, you or any of your employees, creditors, holders of securities or other equity holders or any other person. Any opinions expressed reflect the current judgment of the authors of this paper and do not necessarily represent the opinion of IMTC. IMTC expressly disclaims all representations and warranties, express, implied, statutory or otherwise, whatsoever, including, but not limited to: (i) warranties of merchantability, fitness for a particular purpose, suitability, usage, title, or noninfringement; (ii) that the contents of this white paper are free from error; and (iii) that such contents will not infringe third-party rights. The information contained within this paper is the intellectual property of IMTC and any further dissemination of this paper should attribute rights to
IMTC
and include this disclaimer. Photo by Scott Webb from Pexels.