Show, don't tell: Win new business by demonstrating proposed portfolios
Promising improved portfolio performance is foundational to pitching new clients but showing prospects exactly what changes your firm would make to their portfolios goes a long way toward winning new business. With IMTC's latest update, users can upload prospective clients' portfolios to our system and run optimizations without impacting your total holdings. Then, firms can export a sleek report to demonstrate how they would execute on the promise of better performance with specific examples from clients' actual portfolios.
"IMTC's system turned what was a time-consuming, boring process of comparing bonds in a spreadsheet into a clean, visually appealing report to show a prospective client. The process is simple and an effective tool for small and big firms alike."

—Melissa Robles, client relationship specialist at Carmichael Financial, LLC
Now, using IMTC's new prospect portfolios capability, you can:
Use IMTC's full suite of features – including the Optimizer – on prospect portfolios without impacting existing total holdings
Demonstrate the tangible changes you would make to a prospects' portfolio with the platform's reporting capabilities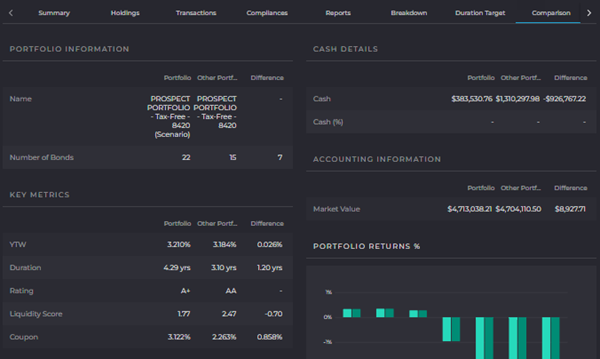 Cash flow modeling to better fulfill ad hoc client requests
For wealth managers, executing ad hoc cash withdrawal requests from clients while maintaining optimal portfolios can be challenging. These requests often entail large sums and quick turnarounds, making it difficult for portfolio managers to ensure they fulfill the request while safeguarding the portfolio's performance. Now, IMTC's system allows portfolio managers to model how cash flows – withdrawals or contributions – will impact the portfolio using the Scenarios module. For example, clients may want to withdraw cash to settle an upcoming tuition payment for their child. Using IMTC's Optimizer within the Scenarios module, PMs can draft the best strategy to raise the necessary cash without actually executing on it until desired.
Now, using IMTC's new cash flow modeling, you can:
Fulfill ad hoc cash requests using IMTC's Scenarios and Optimizer modules while maintaining the portfolio's structure and limiting gains/losses
See the impact of the Optimizer's suggested buys/sells within the Scenarios module and adjust as necessary before carrying them out
Compare the model's outputs to the original portfolio using IMTC's Comparison tool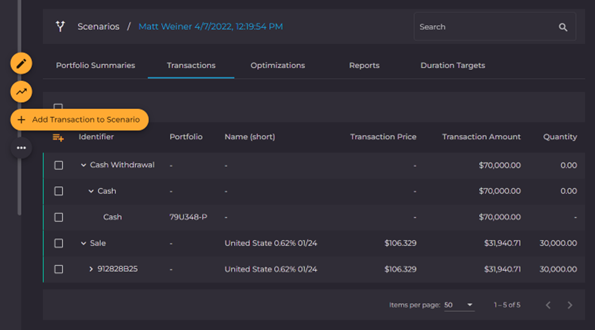 Integration with Kalotay models for enhanced option-adjusted calculations
IMTC has expanded its analytics to include Kalotay's industry-leading fixed income valuation methodologies. Kalotay was instrumental in the development of option-adjusted spread (OAS) models for some of the most established financial technology providers in market today. Now, IMTC's system calculates option-adjusted metrics using Kalotay's proprietary models and formulas, while utilizing the data and analytic source of your choice. This means you execute more informed strategies, knowing our system has normalized variable bond structures (i.e., bonds with and without options); and in turn, you will see a clearer picture of how interest rate risk will impact your clients' portfolios.
Now, with Kalotay's libraries and models integrated into IMTC, you can:
Work from comprehensive models that enable more accurate option-adjusted yield, duration, convexity, and spread projections
Leverage Kalotay's extensive suite of analytics tools, including BondOAS, MuniOAS, FloatVal, and TipsVal
Improve relative value decision making with muni-specific OAS measures
For information on IMTC's investment management platform, please contact team@imtc.com or reach out to our team.


This paper is intended for information and discussion purposes only. The information contained in this publication is derived from data obtained from sources believed by IMTC to be reliable and is given in good faith, but no guarantees are made by IMTC with regard to the accuracy, completeness, or suitability of the information presented. Nothing within this paper should be relied upon as investment advice, and nothing within shall confer rights or remedies upon, you or any of your employees, creditors, holders of securities or other equity holders or any other person. Any opinions expressed reflect the current judgment of the authors of this paper and do not necessarily represent the opinion of IMTC. IMTC expressly disclaims all representations and warranties, express, implied, statutory or otherwise, whatsoever, including, but not limited to: (i) warranties of merchantability, fitness for a particular purpose, suitability, usage, title, or noninfringement; (ii) that the contents of this white paper are free from error; and (iii) that such contents will not infringe third-party rights. The information contained within this paper is the intellectual property of IMTC and any further dissemination of this paper should attribute rights to
IMTC
and include this disclaimer. Photo by Scott Webb from Pexels.