Simplify bond swaps across accounts with new switch trade functionality
Do you struggle to view the opportunity and impact of a suggested switch trade, quickly? Instead of manually reviewing swap opportunities account by account, you can now automate the process to determine which portfolios hold the bond and how much to buy on the other side. IMTC's switch trade functionality takes the guess work out of that process so you can easily analyze and execute before the opportunity passes you by.
Using the switch trade functionality, you can:
Easily narrow the list of portfolios that contain the bond in order to sell out of the position across all clients
Run scenarios to see the pre- and post-trade impact of a switch trade on all portfolios
Limit the purchase market value to be less than the market value sold
Automate the switch trade process across accounts for a 1-to-1 swap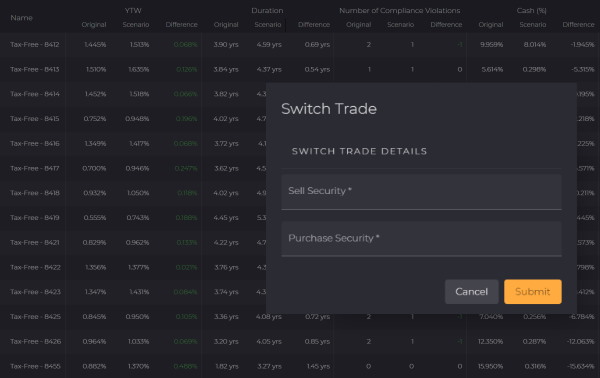 Manage groups of portfolios as a composite account more effectively
Many fixed income managers manage groups of accounts (e.g., for a family) and need portfolio management capabilities that handle hierarchies. Often, these portfolios have rules that apply to the portfolios as a composite. With IMTC's account feature, PMs can manage groups of accounts with more flexibility and ease.
Using accounts, you can:
View an aggregated summary of all the portfolios in the composite including returns, characteristics, and analytics
Create compliance rules and targets at the account level to ensure unique guidelines are managed accurately
Optimize across portfolios in the composite ensuring the account restrictions are upheld
Report on the account easily showing a rolled-up view of the portfolios
Access securities and exposures across the firm with total holdings dashboard
Sometimes you not only need to see exposures across groups of accounts, but across all accounts at your firm. You need to see what bonds are coming due, have upcoming call dates, were recently downgraded, etc. and need to see which accounts hold those securities. With IMTC's total holdings, users can view lot-level details of all their holdings in a single screen.
Using total holdings, you can:
View exposures and characteristics for securities across accounts and at the aggregate level
Search and filter across all your portfolios for securities using 250+ pre-defined parameters or custom fields and metrics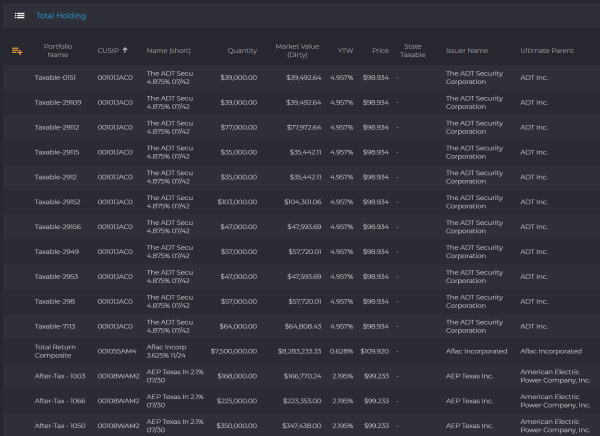 For information on IMTC's investment management platform, please contact Russell Feldman at rfe@imtc.com or reach out to our team.
This paper is intended for information and discussion purposes only. The information contained in this publication is derived from data obtained from sources believed by IMTC to be reliable and is given in good faith, but no guarantees are made by IMTC with regard to the accuracy, completeness, or suitability of the information presented. Nothing within this paper should be relied upon as investment advice, and nothing within shall confer rights or remedies upon, you or any of your employees, creditors, holders of securities or other equity holders or any other person. Any opinions expressed reflect the current judgment of the authors of this paper and do not necessarily represent the opinion of IMTC. IMTC expressly disclaims all representations and warranties, express, implied, statutory or otherwise, whatsoever, including, but not limited to: (i) warranties of merchantability, fitness for a particular purpose, suitability, usage, title, or noninfringement; (ii) that the contents of this white paper are free from error; and (iii) that such contents will not infringe third-party rights. The information contained within this paper is the intellectual property of IMTC and any further dissemination of this paper should attribute rights to 
IMTC
and include this disclaimer. Photo by Scott Webb from Pexels.