Increased control in generating portfolio optimization recommendations
IMTC's Optimizer, one of our biggest value differentiators, now provides users with more choice in how they want to optimize portfolios. With this update, PMs now can prioritize whether the Optimizer suggests orders to reduce tracking error or to maximize outperformance as its primary objective. For example, if a PM is comfortable with being underweight an AA rating and would prefer to leave tracking error as is, they can decide to focus on maximizing yield instead. This enhancement provides fixed income managers with more control and flexibility over the buy and sell recommendations the Optimizer provides.
Using the new flexibility on the Optimizer, you can:
Prioritize reaching an investment objective – such as improving yield, proximity to targets – over resolving compliance
Optimize to suggest orders to resolve compliance issues ahead of any enhancements to an investment objective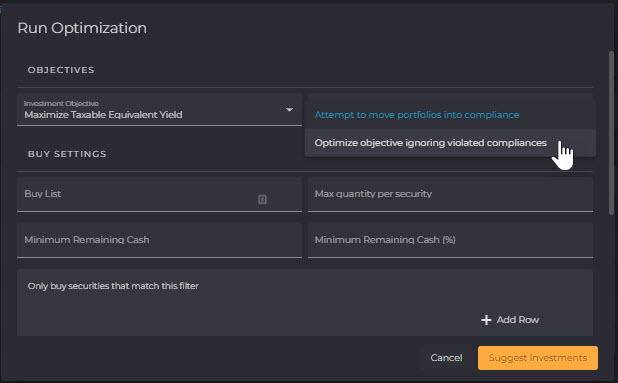 Seamlessly collaborate across teams with Salesforce integration
Keeping track of ad hoc client requests and portfolio-specific guidelines requires meticulous communication. While IMTC embeds IPSs and compliance guidelines into our system directly, individual accounts may come with their own specifications or requests (e.g., cash requests from clients, liquidity requirements, portfolio strategy, or advisory fees). IMTC's investment management system is now integrated with the industry-leading CRM software, Salesforce, to automatically share critical account information between relationship managers and investment teams; this improves collaboration to ensure all client requests are accounted for in portfolio management.
Now, with our new Salesforce integration, you can:
View client-specific investment strategy guidance and notes in IMTC's platform with real-time updates as advisors enter or adjust them into the CRM
Maintain softer, firm-wide investment framework criteria outside of embedded compliance rules for specific accounts or portfolios

Identify sector exposures across accounts
Portfolio managers often struggle to quickly identify portfolios that need attention or ones that can accommodate buys and/or sells. We improved our filtering capability so that managers can get even more granular when searching for over- or underweight subsectors within various portfolios. For example, you can search across all accounts for ones in which their energy exposure is less than 5% (see below). This enhancement means PMs can more accurately identify accounts by sector exposures with our enhanced filters.
Using our increased filtering tools, you can:
Filter portfolios to level 3 to find certain sector exposures, such as financials, healthcare, energy, etc.
Identify accounts with a certain percentage of sector-specific bonds (i.e., "portfolios with over 10% industrial bonds")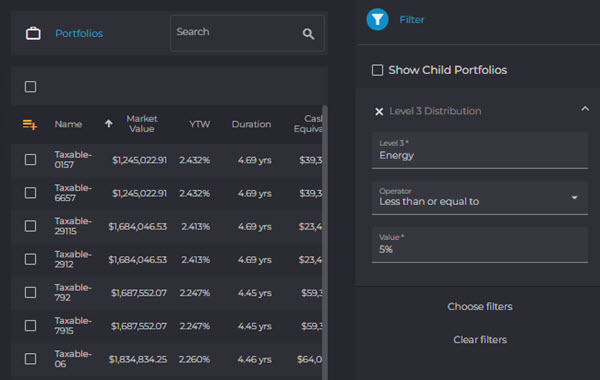 For information on IMTC's investment management platform, please contact team@imtc.com or reach out to our team.


This paper is intended for information and discussion purposes only. The information contained in this publication is derived from data obtained from sources believed by IMTC to be reliable and is given in good faith, but no guarantees are made by IMTC with regard to the accuracy, completeness, or suitability of the information presented. Nothing within this paper should be relied upon as investment advice, and nothing within shall confer rights or remedies upon, you or any of your employees, creditors, holders of securities or other equity holders or any other person. Any opinions expressed reflect the current judgment of the authors of this paper and do not necessarily represent the opinion of IMTC. IMTC expressly disclaims all representations and warranties, express, implied, statutory or otherwise, whatsoever, including, but not limited to: (i) warranties of merchantability, fitness for a particular purpose, suitability, usage, title, or noninfringement; (ii) that the contents of this white paper are free from error; and (iii) that such contents will not infringe third-party rights. The information contained within this paper is the intellectual property of IMTC and any further dissemination of this paper should attribute rights to
IMTC
and include this disclaimer. Photo by Scott Webb from Pexels.