We're excited to share with you our newly released product enhancements, designed to give you more flexibility, speed, and data-informed recommendations to optimize fixed income investment workflows.
Over the past quarter, our development team has substantially improved the performance of our platform. The IMTC platform is now 30% more responsive, allowing you to identify and execute optimal buys faster than ever before.


Ease the process of identifying matchers for your portfolios
When identifying new bonds to purchase, investment managers often prioritize buying bonds that match existing positions. This can save considerable time in fixed income workflows, as these matchers have already been pre-approved through internal due diligence processes.
The Optimizer can now prioritize matchers when suggesting CUSIPs aligned with your investment preferences. When the filter is enabled, the Optimizer automatically combs through total holdings and identifies investment recommendations that match your existing positions. This helps streamline investment decisions by prioritizing CUSIP buys that maintain the same risk exposure.
Using the new matchers filter, you can:
Prioritize bonds that you already own within the Optimizer
Access live offers for matchers from various data sources
View specific portfolios and quantities where a CUSIP is held with 'Matchers' button

Access live offers and pricing data from multiple sources
Make faster decisions by viewing real-time offers directly on IMTC, eliminating the need to tab to other platforms for accurate pricing data. Integrating live inventory and pricing on the platform enables users to identify actionable investment opportunities and leverage straight-through-processing. Currently, you can access and compare offers from TMC and BondPoint. The data can be used within the Optimizer and other modules to make investment decisions easier, or you can view all live market data in IMTC's new Live Prices module.
Now, with new live pricing data, you can:
View real-time market offers in the Optimizer and other modules to make fast investment decisions
Filter and sort data to identify offers aligned to your specific investment preferences (amount, matchers, maturity, rating, state, etc.)
Compare offers from multiple data sources, currently including TMC and BondPoint
Create custom dynamic dashboards to stay informed of price changes on bonds you are monitoring

Manage investment rules and targets by strategy
One of IMTC's core tenets is helping portfolio managers grow their AUM and maintain portfolios at scale. By codifying compliance rules, investment targets, and custom requests from clients this enables PMs to make decisions faster. Maintaining compliance rules for each portfolio can also be time-consuming, but now you can assign a comprehensive compliance strategy to a new portfolio automatically, dramatically lowering the burden of daily maintenance for new and changed mandates. To manage portfolios effectively, you can leverage 'Portfolio Type' to manage investment guidelines and targets by their respective strategy.
With the new compliance rules enhancements, you can:
Apply predetermined rules (ratings, durations, asset allocations, etc.) to any new portfolio
Add, update or remove Compliance rules across an entire strategy in bulk

Increase platform flexibility with custom data needs
Each investment firm has unique data needs, workflow processes, and internal systems. Now you can have more control over portfolio data and create more custom workflows based on your firm's specialized investment approach. In keeping with our goal of making IMTC an all-in-one, fully customizable fixed income investment platform, new portfolio-level custom fields enable firms to accommodate their own unique needs. These fields give you more versatility, including the ability to categorize and filter accounts within the platform. For example, you can create fields for internal portfolio IDs, 3rd party vendor IDs, fields from a CRM, and more.
New portfolio custom fields allows you to:
Create up to 20 custom fields at the portfolio level
View custom portfolio-level fields in different modules across the entire platform
Integrate with CRM data to cross-collaborate with other departments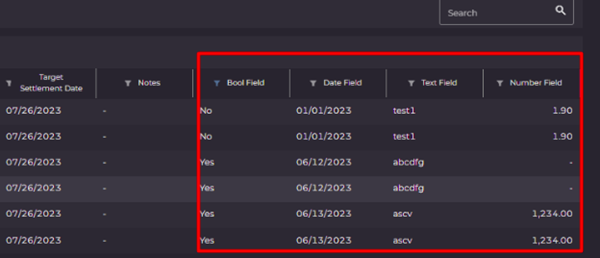 For information on IMTC's investment management platform, please reach out to our team.



This paper is intended for information and discussion purposes only. The information contained in this publication is derived from data obtained from sources believed by IMTC to be reliable and is given in good faith, but no guarantees are made by IMTC with regard to the accuracy, completeness, or suitability of the information presented. Nothing within this paper should be relied upon as investment advice, and nothing within shall confer rights or remedies upon, you or any of your employees, creditors, holders of securities or other equity holders or any other person. Any opinions expressed reflect the current judgment of the authors of this paper and do not necessarily represent the opinion of IMTC. IMTC expressly disclaims all representations and warranties, express, implied, statutory or otherwise, whatsoever, including, but not limited to: (i) warranties of merchantability, fitness for a particular purpose, suitability, usage, title, or noninfringement; (ii) that the contents of this white paper are free from error; and (iii) that such contents will not infringe third-party rights. The information contained within this paper is the intellectual property of IMTC and any further dissemination of this paper should attribute rights to
IMTC
and include this disclaimer. Photo by Scott Webb from Pexels.