Every year for the past 7 years, the Bond Buyer announces a class of Rising Stars to honor standout municipal finance professionals who have made an immense impact on the industry. This year, our CEO Russell Feldman was named a Rising Star for his innovation in technology for the industry.


What is The Bond Buyer Rising Star award?
The goal of our Rising Stars initiative has been to identify municipal finance professionals under the age of 40 whose leadership, collaborative spirit, innovation, and creativity have enabled them to make a positive contribution to the community. In short, the best and brightest of this industry's next generation.
In 2022, there were only 24 individuals named as a Rising Star.
See the full list of 2022 Bond Buyer Rising Stars and Hall of Fame winners here.


Why was Russell nominated?
Russell Feldman was "hungry and eager" to make an impact on Wall Street — and he did just that by becoming CEO of a fixed income investment management technology firm that he helped spearhead.
Having been diagnosed with ulcerative colitis at the age of 17, he spent more than 100 days in the hospital. That's when Russell's interest in the financial industry was sparked by his role model and bond salesman dad, Andrew, who spoke of the inefficiencies on Wall Street during visits.
"I always looked up to my dad and was amazed by the amount of time he spent at the office," Russell said. "I became a lot more intimately aware of the challenges in fixed income when I joined the industry years later."
He said he earned his "master's degree" from the trading floor at Deutsche Bank, after earning a bachelor's degree in business administration from George Washington University.
He experienced the labor intensive, manual processes and lack of technology that his dad faced and was plaguing the fixed income industry.
"Russell's strategic vision, laser focus on execution, and authenticity in coaching a team all enabled him to become the CEO of a disruptive tech company before turning 35," agreed IMTC Advisor Erik Zoega, who nominated Russell.
This year, Russell also received a Community Impact Award from the Quest for a Cure's Crohn's and Colitis Foundation.
View Russell's Rising Star profile on The Bond Buyer website.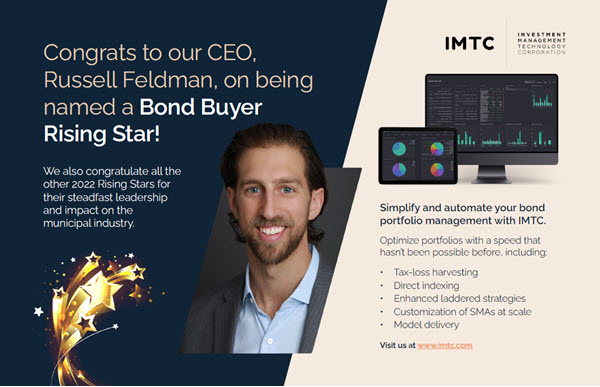 View all Rising Stars on The Bond Buyer.


This paper is intended for information and discussion purposes only. The information contained in this publication is derived from data obtained from sources believed by IMTC to be reliable and is given in good faith, but no guarantees are made by IMTC with regard to the accuracy, completeness, or suitability of the information presented. Nothing within this paper should be relied upon as investment advice, and nothing within shall confer rights or remedies upon, you or any of your employees, creditors, holders of securities or other equity holders or any other person. Any opinions expressed reflect the current judgment of the authors of this paper and do not necessarily represent the opinion of IMTC. IMTC expressly disclaims all representations and warranties, express, implied, statutory or otherwise, whatsoever, including, but not limited to: (i) warranties of merchantability, fitness for a particular purpose, suitability, usage, title, or noninfringement; (ii) that the contents of this white paper are free from error; and (iii) that such contents will not infringe third-party rights. The information contained within this paper is the intellectual property of IMTC and any further dissemination of this paper should attribute rights to
IMTC
and include this disclaimer.
.