IMTC (formerly CBXmarket) recently attended AIR Summit 5.0, the technology and innovation conference geared toward investment managers. The summit, which was held September 18 – 19 in New York City, brought together an elite roster of thought leaders and industry pioneers to discuss the emergence of new financial offerings. Among them, IMTC was selected as 1 of 10 innovative companies chosen to present alpha-generating solutions. Our VP of Business and Product Development, Russell Feldman, represented the team and highlighted the benefits of IMTC's investment management platform.
"FinTech companies like [IMTC] play an integral role in enabling asset managers to generate alpha, and the AIR Summit is proud to lead the charge in connecting innovators with investment professionals," said Bill Stephenson, AIR Summit Founder and Managing Partner, following the event.
In addition to discussing our portfolio optimization tool, the team was privy to panels and sideline conversations, and we're excited to share the intel that we gleaned.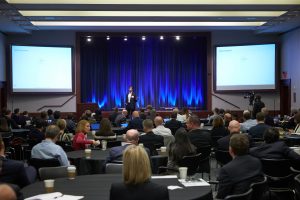 There's a "great migration" occurring within the investment management industry, as a shift from public to private market takes place, according to one speaker. While private companies are "dwarfed" by public giants, they are outpacing public firms in terms of growth rates.
One investment director from Rosenblatt Securities noted that this has led to a fundamental shift in terms of capturing the value of company growth: venture capitalists, private equity firms and management are absorbing most of the value. The number of IPOs has dwindled, and their scope has been more limited than it previously was, which has had profound implications for secondary markets, for both the sell-side and the traditional buy-side. This confluence of factors has deprived the public of participating in wealth creation, essentially driving inequality and a lack of access to investable opportunity.
All of this begs the question: Where does this position the state of the FinTech industry? Though funding is cooling—signs of a "frothy" market could indicate risk of private market slowdown—it is still robust, panelists said, cautioning against painting the industry with a broad brush. After all, of nearly 400 unicorns, more than 50 are FinTechs. Among global players, the US is dominating the FinTech landscape, while India, China and even Latin America are "heating up."
Within the four pillars of FinTech—namely, lending, payments, insurance and investments—companies are experiencing growth phases, and there's abundant interest in emerging opportunities within the real estate and auto tech spaces. Within capital markets and investment management panelists highlighted opportunities for portfolio management solutions, and touted companies like IMTC, which provide workflow automation, data management offerings and governance solutions.
Larry Tabb, the founder and research chairman of TABB Group, noted following the event, "As the fixed income market becomes more transparent, investors will increasingly need to leverage this data to analyze portfolios, manage risk, and discover opportunities."
There are a couple of lessons Wall Street should learn from Silicon Valley if successful disruption within the financial industry is to occur. First, interoperability is a non-negotiable. Innovative solutions must offer the ability to integrate with, and navigate between, various platforms. Second, companies must prioritize security and can't afford to compromise that in favor of agility.
Bearing these lessons in mind, would-be disruptors have their work cut out for them. Within the investment industry, and the capital markets space in particular, disruption can be difficult amid the nascent regulatory landscape. Nevertheless, FinTechs must take a direct approach to addressing these headwinds. This approach is exactly what sets IMTC apart from our peers. Being a cloud-native platform since our founding, our technology guarantees both agility and security, while our open architecture provides seamless integration with data providers, custodial networks and even execution platforms—all while maintaining compliance.
Like panelists said during the summit: we're currently experiencing a moment in the market where "tools and systems are being developed faster than the market can digest," and innovators who can address compliance and governance requirements will be better positioned for success in the long run.